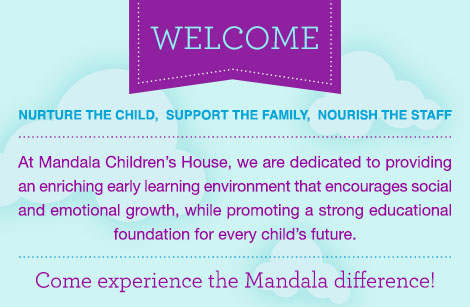 EARLY REGISTRATION IS OPEN! :: Click for Details
Our official registration period opens on March 3rd for Summer Camp 2015 and 2015-2016 School Year! We're excited to share some registration specials: 
Early Bird Registration Special
Register between Feb. 19th and March 2nd and receive $75 off your registration and $100 off your first month's fall installment in August. Register for Summer Camp and receive $25 off registration fee (applies to continuing and new families).
Same-Day Registration Special*
Register on Registration Day March 3rd (Continuing Families) and March 4th (New Families) and receive $50 off your registration fee. (*This registration fee offer applies for this day only.)
Mandala Graduates' Bonus
Happy Graduation, Mandala Graduates! The summer registration fee will be waived completely for Summer School for graduates who are moving onto kindergarten in the fall.
MARCH OPEN HOUSE - MAR. 11:: Click for Details
JOIN OUR TEAM! :: Click for Details
We're hiring for summer and 2015-2016 school year .-> 
MORE INFO